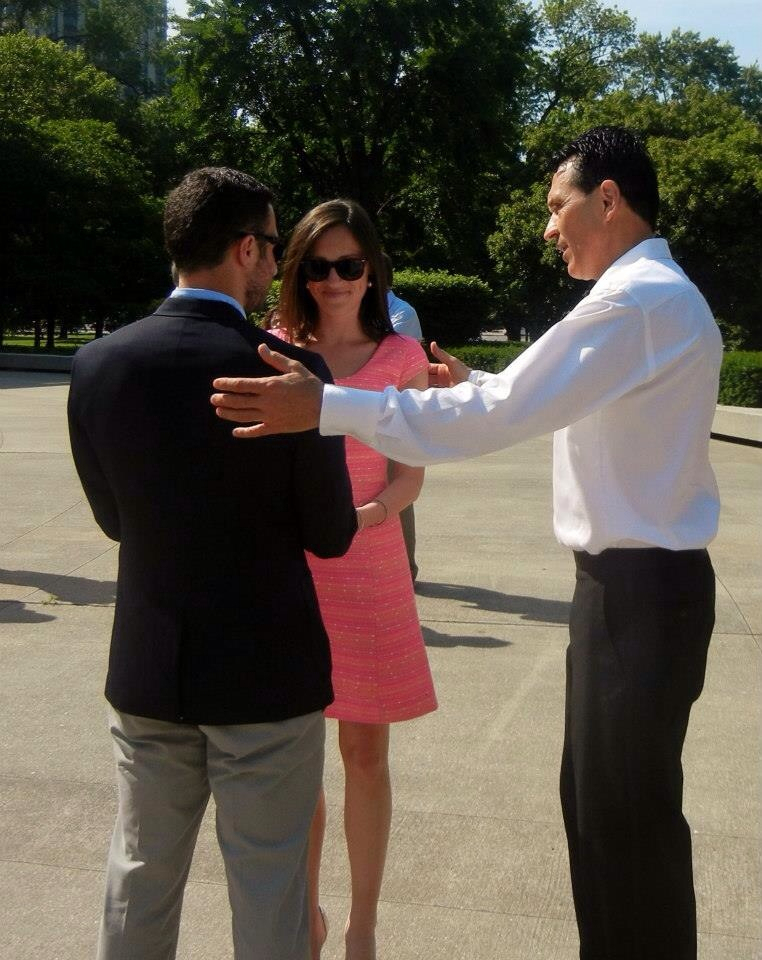 Chicago and Suburban Wedding Rehearsals
To Rehearse or Not to Rehearse?
If you choose to have a Rehearsal, I will facilitate that hour for you.
This allows you to relax and enjoy this special opportunity to be with your Family and Friends! Please check in with me first before locking in a day and time, if you do decide you want a rehearsal.
If you choose not to Rehearse, my fee is reduced.
We can prepare immediately ahead of time, to enjoy your wedding, without a Rehearsal. By meeting at your wedding venue 30-45 minutes before your Ceremony, we can clarify where everyone stands, etc.  Whether you rehearse or not, I will always quietly guide you, regarding which way to face and what to do, during your Ceremony.
"We definitely want a Rehearsal"…..
Reasons why Rehearsals are helpful:
You're more relaxed at your Wedding. You are thinking about the people around you, especially the one you are marrying, vs. which way to turn and what to say 🙂
The Transition choreography, when the Bride is "given away," flows gracefully
Your Bridal Party and Family can enjoy the Moment, vs. worrying about when to walk, how fast, which way to face, what to do with their hands, etc. When your Bridal party is anxious or confused, you become anxious.
Your family and friends have a relaxed opportunity to get acquainted, before the big day
As your wedding day draws near, I will ask you to email me an amended version of the Ceremony Order, which we preview at our initial Planning Meeting. * If you plan to print a wedding Program or Bulletin, you would email me your final Order, with any extra details ** that might not be printed.
Knowing your specific ideas and preferences, a week before your wedding, allows me to prepare, so your rehearsal runs smoothly.
Some questions are often left unanswered until we are actually in your wedding space. I can function with a high degree of uncertainty, so don't feel like everything must be in stone, in advance. That's one of the reasons we have Rehearsals!
If you hire a Day-Of Coordinator, we can work together on this. Usually they help organize your Bridal Party and Family members, for their entrance, then I take it from there.
 "We don't need a Rehearsal"……
If you prefer, we can prepare via email for your Wedding day, without physically getting together.
Preparation begins with our initial Planning Meeting, as you take home a sample Ceremony Order, with lots of ideas, which we have discussed. I call this, the "Orange Sheet."
After studying the sample Ceremony Order, which we review at our Planning Meeting,*  you will begin to feel more confident about what you want your wedding to look like.
The more you think about the Order of events, the clearer your ceremony becomes, in your mind. The more you begin to "see yourselves" in that Ceremony space, the easier it will be to prepare your bridal party and family members, at the time and place you choose.
Using email, photos and a Sketch of your wedding space, you can make decisions early and feel confident on your wedding day.
Often, you don't know early on, whether you want a Rehearsal or not. You can ask for a Rehearsal date & time from your Wedding Venue and then we can play it by ear. At least you have the option, if you decide you want to rehearse face to face, sometime before wedding day.
* A Planning Meeting can be face-to-face or a 3-way Conference Call (or you and your Fiance using Speaker Phone). 
* * Extra Details might include:
Will the entrance of the Groom signal the start of the wedding?
Who will escort Grand parents and Parents in?
 Will Men escort the women?
Will there be a Unity symbol?
Will someone from each family "set the table," with the items for the Unity Symbol?
Which Readings have you selected? Who would you like to do the reading?
Will you be writing original Vows, in addition or in place of the traditional Vows?
Which Last Name have you decided upon, for the final announcement?
Are you releasing Bubbles, Balloons, Birds or any other fun things, at the Recessional?! Do you want Guests to remain seated? If so, I can announce this.
Knowing your wishes will help me conduct your Rehearsal smoothly and with efficiency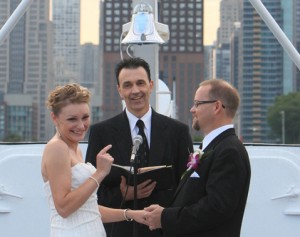 Congratulations to Pastor Rich, voted Top 1% with The Knot- every year since 2014!
847. 363. 5737